Please visit this page frequently to find out the latest about our campaign activities and events programme.
Friday 31 January 2020 – Brexit day social
The direction of the pro-Europe movement in the UK is now unclear. 'Remain' seems lost, and the time is probably not right for 'Rejoin'. But we feel it would be wrong not to mark our continued belief in the European Union as a force for good, and opposition to the UK's imminent departure…
So please join us and local pro-Europe friends on Friday 31 January from 7pm for a social in the main bar at the Canonbury Tavern (N1 2NS).
You may also like to join some of us going on later that evening to a rally/vigil on Parliament Square for 11pm.
Saturday 1 February 2020 – community event
On the first full day of the UK not being an EU member state, join Islington In Europe in resolutely celebrating our European friends, family & neighbours and all they bring to our community.
Please come along to Islington Green between 11.30-13.30 for live entertainment, speeches and advice on rights.
We are proud to be taking part in this Islington Council #WeAreIslington event.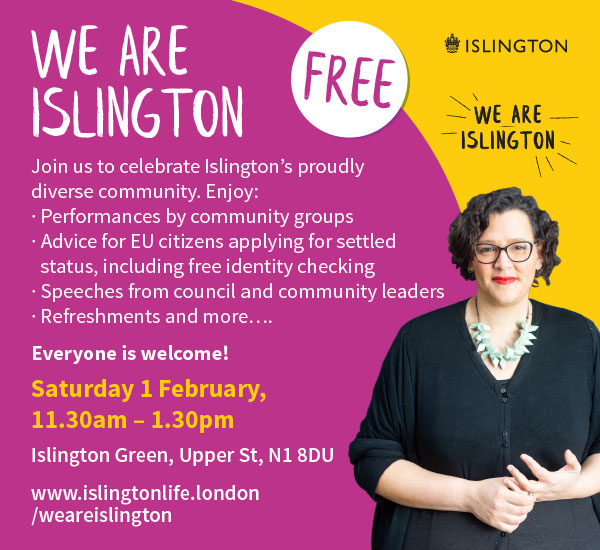 Tuesday 3 March 2020 – immigration advice session
Islington In Europe, in conjunction with Wilson Solicitors and Wesley Gryk Solicitors, is holding its eighth free event for EU nationals and their families to provide up-to-date information and advice about their entitlement to live and work in the UK, and how to apply for settled status and British nationality. This event is supported by Islington Council.
Wilson Solicitors & Wesley Gryk Solicitors, lawyers specialising in immigration law, will also answer your questions, including:
What are my current rights?
How will Brexit affect these?
When and how can I apply for settled status?
When and how can I apply for British Citizenship?
Can my children apply to be British?
This is a free but ticket only event, register here.
Campaign planning group
In addition to public activities, we have a campaign planning group which meets privately every few weeks to review progress and develop future activities. We're always on the lookout for new active members, so if you're interested please email islington.in.europe@gmail.com