Please visit this page frequently to find out the latest about our campaign activities and events programme.
Also note: in addition to these public activities, we have a campaign planning group which meets privately every few weeks to review progress and develop future activities. We're always on the lookout for new active members, so if you're interested please email islington.in.europe@gmail.com
Forthcoming dates
Ten bursts of #PutItToThePeople leafleting
In advance of the big march to Parliament on 23 March, we'll be running 10 bursts of leafleting to publicise it and maximise local turnout – on Saturdays and weekday rush hours. Here are the times and meeting places. You can just turn up, but it helps us if you register so we have a sense of numbers.
1 – Saturday 23 February 11am-1pm Angel station
2 – Saturday 2 March 11am-1pm Finsbury Park station
3 – Saturday 9 March 11am-1pm Highbury & Islington station
4 – Monday 11 March 6-7pm Farringdon station
5 – Tuesday 12 March 6-7pm Kings Cross station
6 – Wednesday 13 March 6-7pm Angel station
7 – Saturday 16 March 11am-1pm Archway station
8 – Wednesday 20 March 6-7pm Kings Cross station
9 – Thursday 21 March 6-7pm Highbury & Islington station
10 – Friday 22 March 6-7pm Farringdon station
23 March – #PutItToThePeople march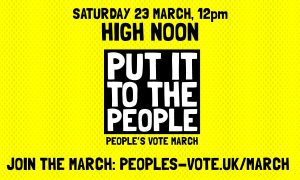 21 March – EU nationals: understanding your rights post-Brexit
Islington In Europe, in conjunction with Wilson Solicitors and Wesley Gryk Solicitors, is holding its fifth free event for EU nationals and their families to provide up-to-date information and advice about their entitlement to live and work in the UK, and how to apply for permanent residence and British nationality. This event is supported by Islington Council.
Wilson Solicitors & Wesley Gryk Solicitors, lawyers specialising in immigration law, will also answer your questions, including:
– What are my current rights?
– How will Brexit affect these?
– When and how can I apply for a Permanent Residence Card?
– When and how can I apply for British Citizenship?
– Can my children apply to be British?
This is a free but ticketed event, full detail and registration here.