Please visit this page frequently to find out the latest about our events programme.
Thursday 4 January 2018, 'Meet…Nick Clegg', Canonbury Tavern, 6-9pm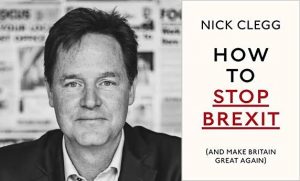 We will kickstart campaigning in 2018 with an evening of discussion about how we can still rescue the UK's relationship with the EU.
We are delighted that the evening will start with Nick Clegg, former Lib Dem leader, Sheffield Hallam MP and East Midlands MEP, who will also take questions and sign copies of his new book HOW TO STOP BREXIT.
This is a free but ticketed event as space is limited. All tickets have unfortunately been taken, but a waitlist is open here.
2018 speakers
Islington In Europe is lining up a series of discussion evenings during 2018. Dates are tbc but the following people have agreed to speak:
Mike Galsworthy, Director, Scientists for Europe
Craig Bennett, Chief Executive, Friends of the Earth
Sir John Tusa, arts administrator, co-chair of EU Youth Orchestra, and BBC journalist
Ian Dunt, editor of politics.co.uk and author of 'Brexit: What the hell happens now'
Nick Cohen, journalist, author and political commentator